Western Canada Sai Retreat 2017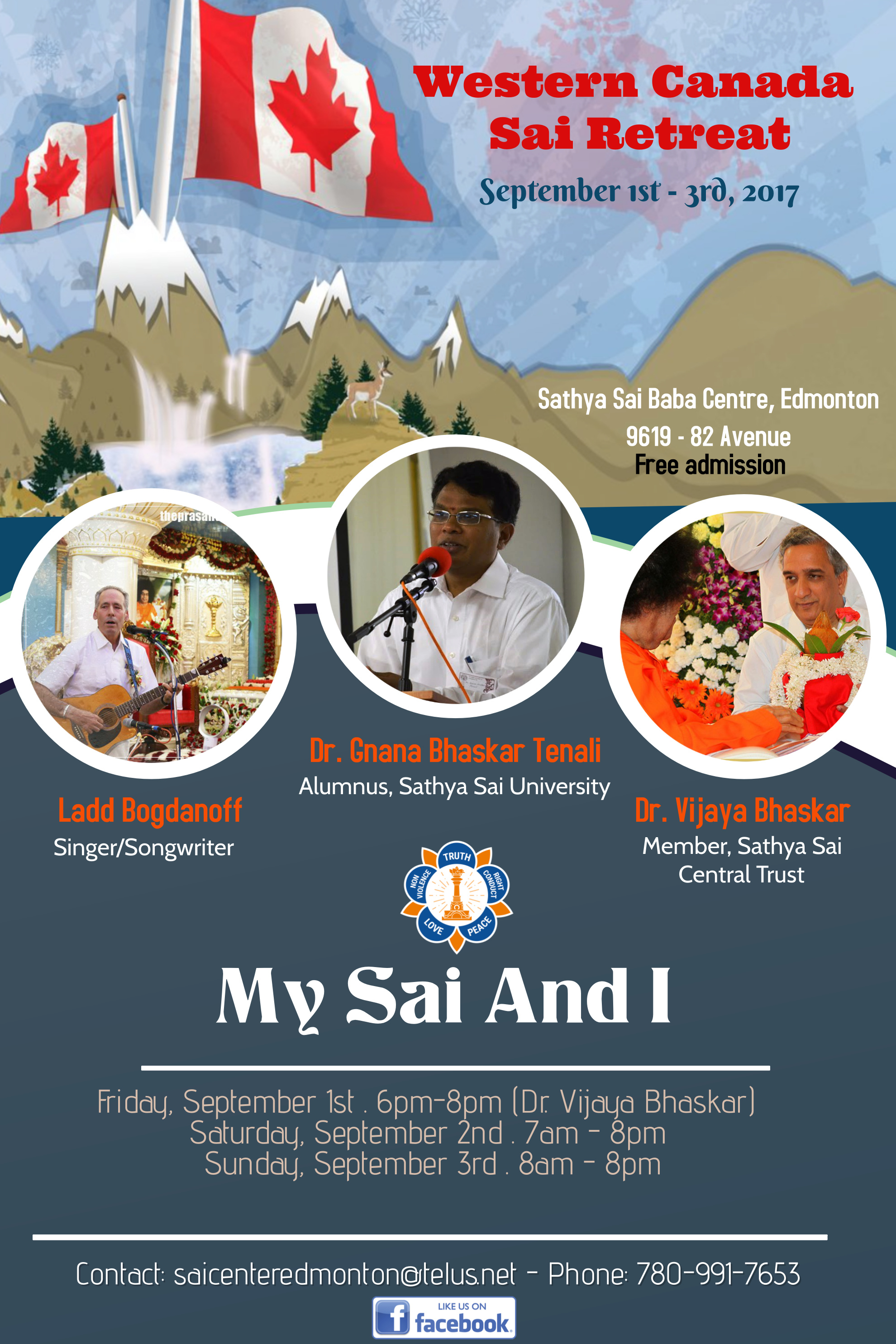 Start Date:
September 1, 2017 at 18:00
End Date:
September 3, 2017 at 20:00
Location:
9619 - 82 Avenue, Edmonton, Alberta, Canada, T6C 0Z9
A Western Canada Sai Retreat is being held in Edmonton from September 1, 2017 to September 3, 2017. The retreat theme is "My Sai And I". Guest speakers are as follows:
Dr. Vijaya Bhaskar (Prashanthi, Central Trust Member) (Friday, Sept. 1st, 6 PM–8 PM)
Mr. Ladd Bogdanoff (Singer/Songwriter)
Dr. Gnana Bhaskar Tenali (Alumnus, Sathya Sai University)
Click here for the full program schedule.
Registration is free of cost and must be completed by August 10, 2017. Click on the registration link to complete the process.
The Sathya Sai Centre of Edmonton have arranged a special rate at two hotels. Use code 'Sai Baba Centre of Edmonton'.
Best Western Cedar Park Inn: 5116 Gateway Blvd, Edmonton, AB T6H 2H4
Phone: (780) 434-7411 – $99.00 will be held till August 18th.
Ramada on Gateway Blvd, Edmonton: 5359 Calgary Trail, Edmonton, AB T6H 4J9 – Phone: (780) 434-3431 – $89.99. CG5598
For any questions, please contact:
Troy Mangru (President): (780) 991-7653 / saicenteredmonton@telus.net
Amrita: (780) 901-3495
Chandran: (780) 999-1943