SSE Field Trip to Gurdwara
Published Date:

August 17, 2017

, Event Date:

June 11, 2017
---
For its annual Sai Spiritual Education field trip this year, the Sathya Sai Centre of Toronto East visited the Gursikh Sabha Canada gurdwara. Previously, end of year field trips had consisted of outdoor games and snacks, but now the Centre has moved to a more spiritually meaningful approach for these activities.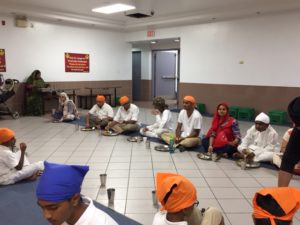 Of the 65 members in attendance, 35 were children with ages in the range 6–16. Two senior gurdwara volunteers welcomed the group and provided a tour of the facility. The gurdwara's decor was composed of posters illustrating stories of women, stories of Sikh gurus, quotes from Guru Granth Sahib, and contributions of Sikhs to the world. After providing a brief introduction to Sikhism, the volunteers cited some quotations from Guru Granth Sahib, the Sikh faith holy book, and continued on with various topics including: the important role of women and architecture of the Golden Temple in Amritsar. An interesting fact revealed was that the foundation stone for the Golden Temple was laid by a Muslim Sufi saint, which goes to show the all-encompassing and non-sectarian nature of the Sikh faith.
Being thoroughly engaged, the members lost track of time after accepting the invitation of the gurdwara to a question and answer session, wishing for more time when the next activity was to begin. Additional activities included: listening to devotional songs and feasting on prayer offering and meals prepared by Gurdwara volunteers. The members commented that the gurdwara visit was an enjoyable first-time experience and were quite glad for the opportunity to attend. There is now possibility of future visits including the potential to volunteer and perform service activities at the gurdwara. The members also expressed their thanks to Sathya Sai Baba for guiding and encouraging them in learning about other religions, and reaffirming that "there is only one religion, the religion of love".
Visiting the gurdwara was very interesting, as Sikhism is a religion that I am not that familiar with. Since there are many differences between Hinduism and Sikhism, there were many things to learn about. Sikhs did not believe in miracles, they did not pray to statues, and they only sang songs from their scriptures. There are multiple policies that define a true Sikh, and during our visit, they also outlined very well what impact women had on their religion. Though, some of the main messages, related very much to what we learn from our SSE classes, such as God being immortal, and God being the creator, or the supreme being. This proves that once you familiarize with a religion that seems distant, you will understand how close they actually are to your own religion, and that all religions have one main message, which is the Golden Rule: "Treat others how you would like to be treated".

Sakti P. Bal,
Sai Spiritual Education Student
Our host at the gurdwara provided us with some insight into the origins of Sikhism and the ways in which Sikhism is practised. We learnt that Sikhism is a religion that focuses on spiritual enlightenment, with there being no idols for worship. As well, unlike in Hinduism, 'priests' and 'the practice of rituals' are non-existent; instead, the core of the religion concentrates on the element of logic and practicality. The discussion on respect and reverence for women, and Sikhism's role in elevating the status of women made me realize how progressive-a-religion, Sikhism is. As a family, we enjoyed drawing parallels between Sathya Sai Baba's teachings and Sikhism, including (1) the importance of service to mankind and (2) to abide by the values of one's religion. We would definitely enjoy another visit to a gurdwara or another opportunity to learn more about Sikhism.

Sai Spiritual Education Parent